About us
Find out more about the Bristol Water Foundation.
It all starts with education
We stand for building the foundations of the future and it all starts with education.
Hello, and a big thanks for dropping by! We're the education arm (or shoulder) of Bristol Water. Our aim is to make a splash on our next generation of customers to set them up for a rainbow-filled future.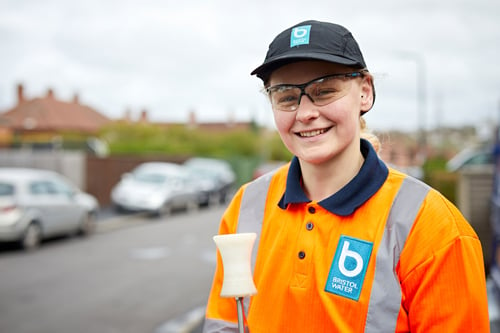 About the Bristol Water Foundation
We're made of two parts...
Learning – head to the learning tab for lots of great resources on anything water-related, whether that's the

water cycle

or

birds

you can find at our lakeside. This section is mostly aimed at KS2 students and is mapped to the national curriculum.
Careers – this section is for those in year 10 up to university age. It provides a summary of all the opportunities here at Bristol Water and shares some great ways to get ahead in your career, write a CV and much more.
The Foundation also taps into key environmental issues. There's plenty on why we should be saving water, reducing plastic waste, and our hidden water footprint. You can also take our water saving pledge here for a chance to win an iPad!
It is very important to us to make learning accessible to anyone, anywhere, especially in current times, so we can help as many of you grow as possible.
What we offer
Top-quality water learning for all
There are almost 50 high-quality FREE learning resources for anyone to use, anywhere. Our worksheets, experiments and more have been developed with real teachers, pupils and area experts. While many adults have enjoyed them, we've especially matched these resources around the KS2 syllabus to make them extra fabulous for learning in schools and homes.
Career opportunities for the region's future talent
We've designed a whole range of mentoring opportunities and advice for pupils in year 10 right up to university. We've lots of useful career resources for you in our careers section.
We also have set up a unique Facebook support group so you can chat to us or other people just like you. This group is monitored by our education team and we can offer advice or information. We also host regular live webinars so it's a good idea to join!
Community learning partnerships
We've partnered with schools and universities from across the region. We also work with community education groups like Ablaze and the South Bristol Youth partnership.
There's so much more to come…
Much more! Yes, it's a classic line but it's true. We have lots more exciting news and announcements to come as we delve deeper into our mission with the Bristol Water Foundation. On that note, make sure to follow our social channels as we'll be dishing up some swell competitions for you all.
Here's what we stand for:
Making high-quality learning accessible to anyone, anywhere.
Learning through doing – our educational resources have dedicated experiments to try at home.
Removing barriers to STEM careers and support under-represented community groups.
We hope that answers your questions about the Bristol Water Foundation but if you have a query, don't hesitate to contact us.
It all starts with education. It's what we're made of.
Love water, Save water
Protect the planet and save money doing it!
Saving water isn't as hard as you might think. Little things, like swapping a bath for a shower or getting a water butt, make a big difference. We've got some top tips and changes you can make to take care of every drop of water.